CineGrid

Website
http://www.cinegrid.org/
Contact
Laurin Herr
, Pacific Interface Inc, United States
Collaborators
Japan:
Keio University/Research Institute for Digital Media and Content; Tohoku University; TUT/CTL; NTT Laboratories; Digital Cinema Technology Forum
Canada:
Ryerson University
The Netherlands:
University of Amsterdam
United States:
University of California San Diego/Calit2; University of Southern California/CNTV (School of Cinematic Arts); University of Illinois at Chicago/Electronic Visualization Laboratory; University of Illinois at Urbana-Champaign/National Center for Supercomputing Applications; San Francisco State University/Institute for Next Generation Internet; Cisco Systems; University of Southern California/Entertainment Technology Center
Description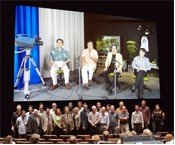 CineGrid is an initiative to provide media professionals access to a global cyber-infrastructure capable of carrying ultra-high-performance digital media using photonic networks, middleware, transport protocols and collaboration tools originally developed for scientific research, visualization and Grid computing; all the while "learning by doing," training the next generation, and cultivating global interdisciplinary communities to help advance the state-of-the-art. CineGrid is people, facilities, networks and a not-for-profit organization.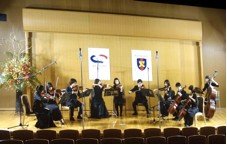 In October 2006, a CineGrid demonstration at the Audio Engineering Society (AES) annual meeting at the Letterman Digital Arts Center in San Francisco streamed, for the first time, 2K and 4K resolution digital motion pictures and 24-channel digital audio from three different locations in real time, then mixed it live for an audience of audio and video professionals. This CineGrid@AES special event was structured in four parts: (1) a sequence of 4K "digital shorts" at 24 frames per second (fps), together with fully mixed synchronized audio, were pulled from network-connected servers in Los Angeles and San Diego; (2) 4K telepresence was used for interactive video-conferencing and ultra-realistic reproduction of a classical music performance from Tokyo; (3) 4K motion pictures were sent compressed from Tokyo, and 24-channel non-compressed digital audio was streamed from San Diego; and, (4) the performance system was re-configured to use uncompressed 2K motion pictures coming from local servers, synchronized to 24-channel, non-compressed digital audio streaming from San Diego.