CineGrid @ Holland Festival 2007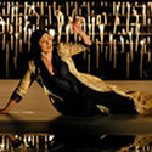 Websites
http://www.cinegrid.org/
www.hollandfestival.nl/#festival/voorstelling/9043 http://www.youtube.com/watch?v=moL2tl0mlkw
Collaborators
The Netherlands:
Holland Festival; University of Amsterdam; SARA Computing and Networking Services; SURFnet; Waag Society; BeamSystems; Cultuurfabriek
Japan:
Research Institute for Digital Media and Content, Keio University
United States:
Pacific Interface Incorporated; Calit2/University of California San Diego; Electronic Visualization Laboratory/University of Illinois at Chicago; StarLight; Pacific Wave; CENIC
Description
On 20 June 2007, as part of the Holland Festival 2007, the international research consortium CineGrid conducted the first successful demonstration of Trans-Atlantic streaming of 4K digital motion pictures and 5.1 surround sound over photonic IP networks.
The CineGrid @ Holland Festival 2007 project transmitted a live performance of the opera "Era la Notte" from Amsterdam's concert hall, in real time, to UCSD where it was viewed in 4K (four times HDTV resolution) by an audience in the Calit2 auditorium.
Three streaming tests were performed (see diagram below):
(20 June 2007) 4K point-to-point JPEG2000 compressed, at a rate of 500Mbps, between Amsterdam and San Diego
(21 June 2007) HD compressed coming at ~135Mbps from Amsterdam to Calit2, where it was replicated by Calit2 servers with Qvidium software into at least six streams going to USC, U Washington, UIC/EVL, Ryerson U (Toronto), Stockholm, Prague, and Barcelona.
22 June 2007) 4K uncompressed (~8Gbps) from Amsterdam to Japan via Chicago.